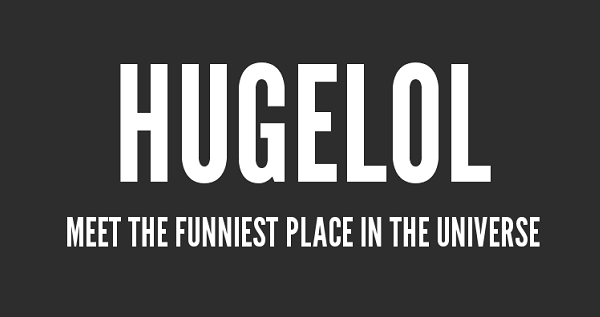 Fun, laughter and smiles. That's HUGELOL.
HUGELOL is the place where you go if you want to have a laugh, be surprised, meet cool people or check what's new on the internet.

With over 226,000 active users you will never be alone again. And they're all here for the same reason: FUN!

The internet is a fascinating tool and HUGELOL makes sure you are using 100% of it. It's always fresh and fun to use. Unless you're using Internet Explorer 6.

Our name comes from the acronym LOL. It stands for Laughing Out Loud. We want to spread happiness and everyone is invited to join us.

HUGELOL is now spreading the happiness to your social networks as well. If you are looking for more entertainment, follow us on Facebook, Twitter, Tumblr, Pinterest or Google+.
Simplicity and costumization.
Have it your way. A big difference between HUGELOL and other fun networks is the huge amount of options available in our settings. Still, we manage to stay extremely user-friendly and simple.

You don't want to see reposts? They're disabled by default. You don't like a certain user? Ignore him/her. Want to be recognized? Give yourself a cool avatar. You want to change the way your HUGELOL looks? We have multiple options for that.

Even though we offer powerful costumization features, we make sure that the site is user-friendly and simple. The default settings are scientifically guaranteed to maximize the Fun for 99% of our users.

To make sure HUGELOL works the way it should, you need to use a modern browser. We recommend Google Chrome as the browser of choice. Still, an up-to-date version of Firefox, Safari, Opera or even Internet Explorer will also do fine.
The community that makes us shine.
Just this week we have welcomed 17 new users. Here are some of them.
















A smile makes you live 10 seconds longer.
Are you ready to become immortal?
Signup Now